Although it's getting to the end of January, it's still early in the year, and you still might be wondering which watch to purchase in the coming twelve months. While there is only so much information we can give you – watches, like perfume and fashion, are ultimately personal – we can hopefully give you some pointers. Whether it's price, style, or just the general trends for this year, we're here to help you in your mission. Let's make 2022 your year; finding the man's watch for you – or your partner, brother, or father – will be an easy process!
The following list picks the best watches from each of the big watch types (diving, motorsport, fitness, dress, and minimalist). So if you're buying for a motorman, a sports-nut, into water sports, or just a classy man about town – you're bound to find some types of watches ideas here!
Diving – Omega Aqua Terra, "Beijing 2020" (£5,280.00)
Designed in celebration of the Olympic Winter Games Beijing 2022, Omega created the Seamaster Aqua Terra. It's a distinctive watch with a number of outstanding features and details. To begin, the watch is sent in a special Olympic Games presentation box. On the back, a Beijing 2022 emblem has been stamped. It's set on a stainless-steel steal bracelet with Omega's unique screw and pin system.
It's still the start of 2022, and if you're looking for a man's watch, especially in keeping with a fitness regime – as a part of a new year's resolution – then this might just be the one. It's also still wintery at the moment; the weather paired with this watch is bound to get you amped for the Beijing Winter Olympics.
With a water resistance of 150M (500 ft, 15 bar), you're unlikely to find a better diving watch.
We've written more about Omega watches here.
Motorsport – Briston Clubmaster Sport, "£265.00"
As already mentioned in our motorsport watches article (link), this is ideal for someone with a passion for the world of four-wheels. At £265, it's certainly affordable – especially if you've already splashed out on a new vehicle! The design is based on the vintage motorsports style of the 1960s, so you're bound to feel like Sean Connery in his Aston Martin, giving chase. It's no wonder drive watches are popular.
The watch also has a Tachymeter on the bezel, so it's especially handy if you want to work out how swiftly you got to your destination (or if your recent lap was better than your last!).
Fitness – Fitbit, Charge 5, (£169.99)
Fitbit has always been ahead of the game with fitness trackers, and the Charge 5 is no exception. Not only does this smartwatch do all the usuals – notifications, payment, and the like – but it also has a seven-day battery life, do don't worry about losing step count in the middle of a jog.
The health and fitness features are exactly what you'd expect from the latest Fitbit. Along with the usual past features: heart rate and sleep tracker, the Charge 5 can measure electrodermal activity – EDA and perform electrocardiogram – ECG – examinations.
Superficially, the Charge 5 is ten percent thinner than the previous incarnation, and the stainless steel makes for better quality than the plastic of earlier years.
Dress – Seiko Presage Sharp Edged Series (£860)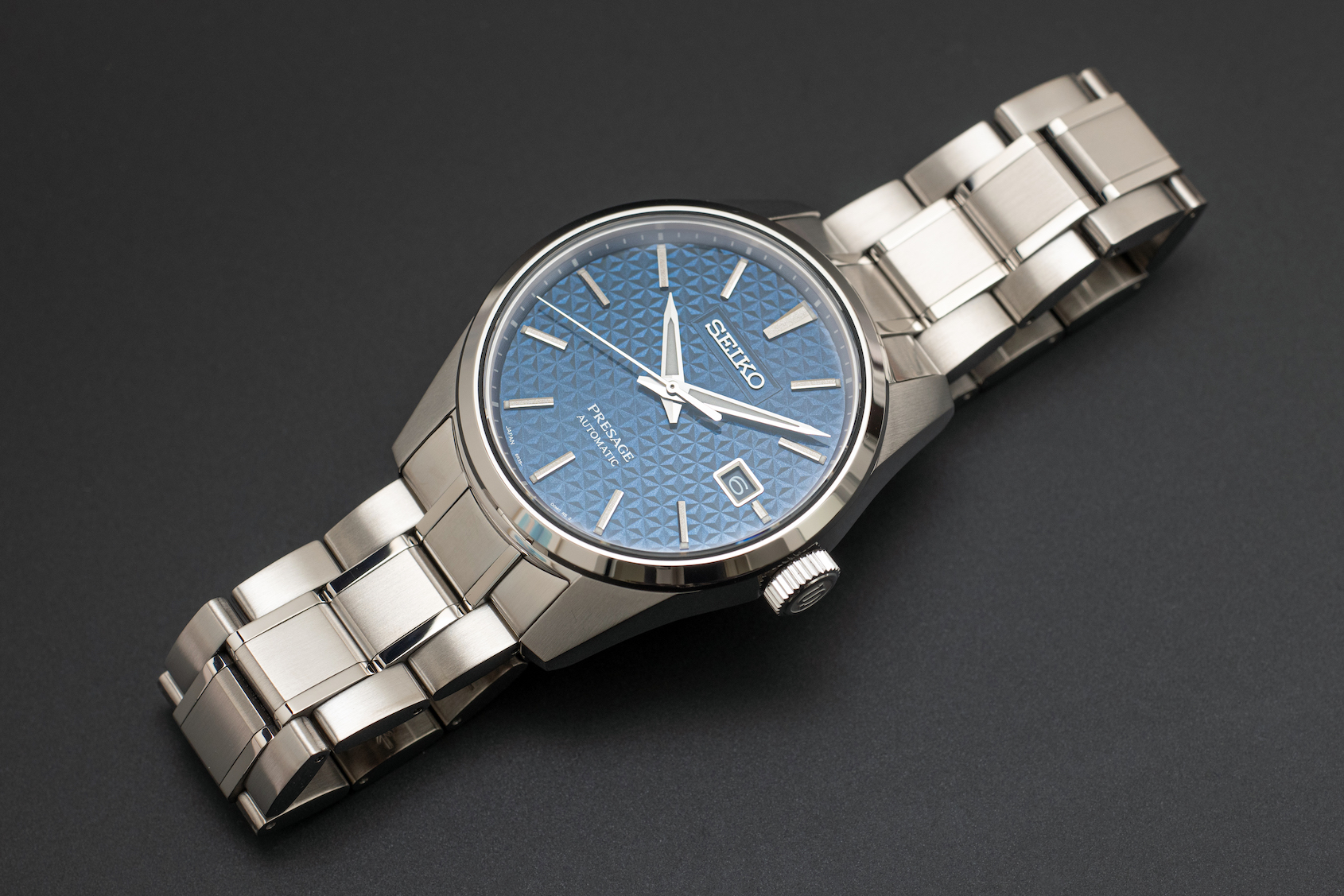 Decorated with an exquisite asanoha hemp leaf design on its dial, the recent Seiko Presage series will work with just about any evening suit. This design has been in use in Japanese culture since the Heian period over a thousand years ago. So if you fancy carrying history and culture on your wrist, this watch is for you.
Also, both the case and bracelet incorporate intricate surfaces that create a beautiful sheen, which will catch the eye of all standing nearby.
Minimalist – M42 PreciDrive chronograph watch in brushed steel (£650.00 – £800.00 from Uniform Wares)
If you want a watch that maintains the functions and looks great, but omits the lurid and flashy gear, then perhaps a minimalist watch is best for you. We would recommend the M42 PreciDrive chronograph watch in brushed steel, available from Uniform Wares.
Don't let this simplistic design deceive you; the craftsmanship is exquisite. With diamond cut hands, 23-jewel, chronograph calendar complication, and Swiss made ETA 251.474 precidrive movement – it's a beautiful timepiece. You can read more about minimalist watches here.
Also, if you order, you'll receive Signature UNIFORM WARES gift packaging and FedEx UK & International Next Day Delivery.
Summary
There are plenty of options available, no matter what type of watch you're after. Sure, your phone can tell the time, but a watch is – quite literally – a part of you. Whether making a statement or tracking your health, a timepiece on your wrist is something everyone should have. Read more of our watch reviews here!